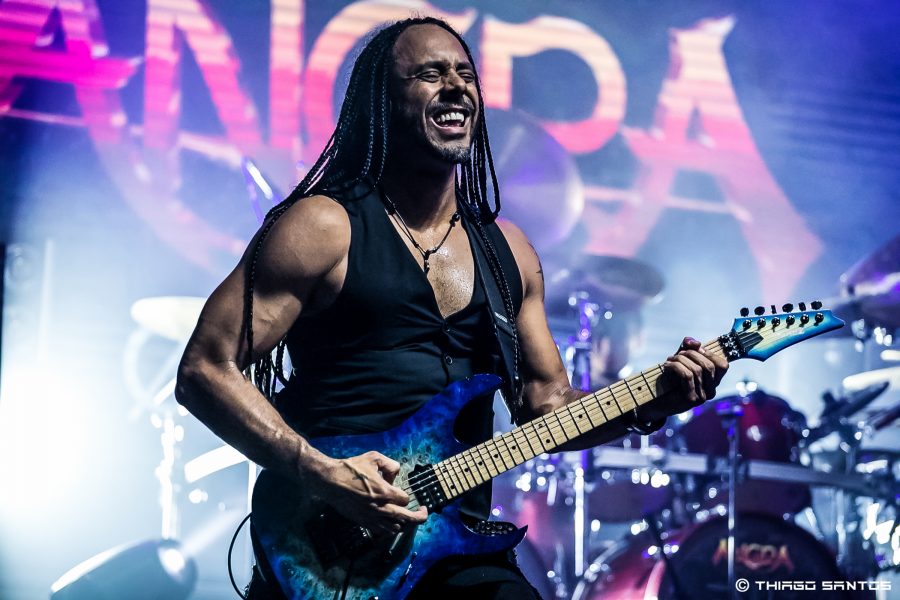 Marcelo Barbosa was born and raised in Brazil's capital Brasilia, and began playing his first guitar chords at age 12. At the time, he was heavily influenced by the staggering amount of Brazilian rock artists, prominent in the capital. Naturally, as his interest for rock developed further, it was only a matter of time until he began to appreciate genre-defining bands such as Rush, Pink Floyd, Beatles, Led Zeppelin, and more.The showings of a dedicated professional were present from an early age, and shortly thereafter, at 17 years old, he already performed as a professional musician and taught lessons at two highly regarded local schools. And it didn't take long until taking on the challenge of forming his very own.
Looking to stand out from the rest, he focused on developing a guitar-oriented institution, something entirely new to the area. An innovative endeavor, with as innovative of a teaching method. Instead of copying other existing models of teaching, Marcelo developed the entire course himself. Thus was born GTR Guitar Institute.
The year was 1996. Throughout all of these years, GTR became a reference in musical education, regarded as one of the most respectful institutions in all of Latin America. To date, GRT has served over 4,000 people, with 800 students currently enrolled, divided into three locations; two in Brasilia and one in Florianopolis.Despite being a successful entrepreneur and musician, Marcelo never allowed himself to become accommodated and always sought to deepen his own musical studies with renowned musicians such as Greg Howe, Lula Galvão, Hélio Delmiro, Toninho Horta, Guinga, Ian Guest, and several others, developing his technique and musicality.
In 2002, he attended Berklee College of Music, the most regarded music institution in the world. He was one of the twelve chosen students (out of 400 candidates) to receive a full scholarship for Berklee's program. Marcelo continued to grow his skills in Jazz guitar and harmony, eventually returning to Brazil to continue his work with the band Khallice, which he founded in 1994, and has released two albums to date.In 2003, Khallice released "The Journey", and the band's debut album was received with major praise all over Brazil. The specialized media went as far as calling Khallice "the best progressive metal band in the world." The positive reviews helped the band land several live performances, including at renowned Brazilian festivals such as "Porão Do Rock", "Brasília Music Festival", "Brasil Metal Union" e "Forcaos".
Two other important achievements took place that year. First, Tagima Guitars, Brazil's biggest guitar manufacturer released its MB-1 Marcelo Barbosa Signature Model. The instrument, crafted based on specific recommendation and specifications from Marcelo became a part of the elite group of "Signature Series" instruments of Tagima. Secondly, Khallice signed with American label Magna Carta, at the time one of the most important labels for progressive music worldwide.In 2007, Marcelo was invited to join the band Almah, alongside Edu Falaschi and Felipe Andreoli, vocalist and bassist respectively of Angra, one of the most regarded metal bands in Brazil. Marcelo joined Almah just in time to finalize their 2008 tour, and record "Fragile Equality", Almah's sophomore release. "Fragile Equality" received several "Album of the Year" awards and it was released in the Americas, Japan, Europe, following by several months of touring.
Once the tour was over, Marcelo returned to work with Khallice, releasing the "Inside Your Head" EP and performing alongside international heavy hitters such as Dream Theater, Symphony X, Guns 'n Roses and Iron Maiden.In 2010, Almah went back into the studio. The result was "Motion", another superb release out through JVC in Japan and AFM in Europe and the Americas. Marcelo joined the band for months of touring once again, in three different continents.Three years later, Marcelo recorded his third record with Almah, entitled "Unfold". The band performed at the biggest festival in the world, "Rock in Rio", followed by more worldwide touring. Marcelo was also invited to join the "Brasil Guitarras" project, featuring 8 of the most expressive guitarists of Brazil, such as Kiko Loureiro, Andréas Kisser, Armandinho, Pepeu Gomes, Toninho Horta, and more.
In 2015, during the Rock in Rio performance of Brazilian band Angra, Marcelo was officially announced as the band's new guitarist, replacing Kiko Loureiro who went on to join American band Megadeth.Currently, Marcelo is in studio recording the next Almah record, scheduled for release in the first half of 2016. Aside from that, he's also putting the final touches in his first solo record, featuring Thomas Lang on drums.
Almah's "Unfold" tour culminated in 4 performances in the USA, including a show at ProgPower USA Festival, the most important progressive metal festival on Earth.In recognition of his career and notable achievements, Marcelo is a current endorser of the following companies: Elixir, Providence, Santo Ângelo, Lost Dog, NIG, Fire e Mooer, all references in high quality products.
Always looking forward to more work to do, and staying true to his goals, Marcelo continues to run the three locations of GTR and perform shows and workshops throughout the world.How does he deal with so much going on? "The dedication and pleasure of doing what you love surpasses all challenges, and that's the fuel that pushes me further," he says.